The Plexr represents the latest gyration of instruments for dermatology, Plastic surgery and aesthetic medicine.
PLEXR
It is a device without cables, electrical contracts, totally wireless, very easy to handle, ergonomic and high performance. This is the only tool capable of performing all non-ablatrve surgical procedures, in cooperation with Prof. Giorgio Fippi. inventor of the method.
device, dedcatod to specialists in the industry, can be used alongside the laser, radio scalpel, pulsed light and radio frequency, using the forth state of matter: plasma.
Ihe tissue is "sublimated', thus avoiding unnecessarily heating surrounding or underlying Tissue.
The "Non-Ablative Suigical Plow" can be summarised in three fundamental phases:
Firstly, the difference in GAP potential between the Plexr handpiece and the skin.
Secondly, ionisation of the gases im the air (genesis of Plasma).
Thirdly, sublimation of treated tissue, without heat transferring to other tissue.
STRENGTHS
Operating principle: Plasma
Three totally wireless hand pieces, practical and ergonomic, of various powers
Constant emission of energy supply
The current does not pass through the patient (no groundplate)
Innovative wireless charging system with automated control of battery level
Latest generation, long life battery with LED charging level control system
Portable battery recharging unit
Exclusive method in continual evolution
APPLICATIONS
Blepharoplasty
Face and body lifts
Omphalos lifting
Acne treatments
Removal of fibromas, naevi, verrucas, cheloids, xanthelasma, dyskeratosis
Removal of tattoos of any colour
Correction of post-acne and other scars
Treatment of distended periumbilical striation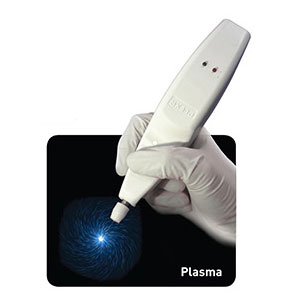 PLEXR เหมาะสำหรับ
ทำตาสองชั้น
ยกกระชับใบหน้าและกระชับสัดส่วน
กระชับบริเวณรอบสะดือ ให้สวยงาม
รักษาสิว
ลดเลือนรอยแผลเป็น กำจัดไฝ จุดด่างดำและติ่งเนื้อ
ลดเลือนรอยสัก
ลดรอยแผลเป็นที่เกิดจากสิว
ลดรอยแตกลายบริเวณหน้าท้อง
FAQs
PLEXR ทำงานอย่างไร?
Plexr จะปล่อยพลังงานเป็นจุดๆ ลงบนบริเวณผิวหนัง ซึ่งจะทำให้หนังเกิดการหดตัวทันที จึงยกกระชับผิวและกระตุ้นให้มีการฟื้นฟูผิวให้ดีขึ้นจากเดิม


PLEXR เหมาะสำหรับใครบ้าง?
Plexr สามารถใช้ได้หลากหลาย กับทุกข้อกังวลของผิวจากอายุที่มากขึ้น เหมาะกับทุกสภาพผิว คนไข้ควรปรึกษาแพทย์โดยตรงก่อนการรักษา


คนไข้มีอาการเจ็บขณะทำหรือไม่?
ก่อนทำการรักษา จะใช้ยาทาบริเวณที่ต้องการ เพื่อลดการเจ็บ หรือไม่ให้รู้สึกเจ็บ โดยปกติคนไข้จะไม่รู้สึกเจ็บในขณะทำการรักษา


ใช้เวลาในการทำนานหรือไม่?
ใช้เวลาเฉลี่ยประมาณ 30 นาที ขึ้นกับสภาพและปัญหาของผิวคนไข้


ระยะเวลาหลังการรักษาและพักฟื้น
Plexr อาจทำให้มีอาการบวมและเกิดรอยแดงในบริเวณที่ทำการรักษาประมาณ 2 วัน และตกสเก็ดประมาณ 5-7 วัน


ผลจากการรักษาด้วย PLEXR
Plexr เป็นการรักษาโดยไม่ต้องผ่าตัด สามารถเห็นผลทันทีหลังจากการทำครั้งแรก เห็นผลดีขึ้นและอยู่อย่างถาวร หลังการทำครั้งที่ 2 หรือ 3
Before & After